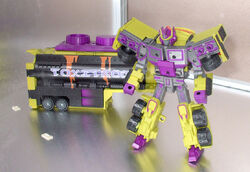 Toxitron was a redeco of Laser Optimus Prime, with "pea soup" green, yellow, and purple as colors. It was planned to be released, but was cancelled. Toxitron was first shown at BotCon 2005's "TF Rarities" panel by Rik Alvarez, with people describing it as "amazingly ugly" and "f***ing awesome". Later, it was on display at the "Things you've never seen before (and will never get)" booth at the Hasbro tour at BotCon 2007.
External Links
Ad blocker interference detected!
Wikia is a free-to-use site that makes money from advertising. We have a modified experience for viewers using ad blockers

Wikia is not accessible if you've made further modifications. Remove the custom ad blocker rule(s) and the page will load as expected.