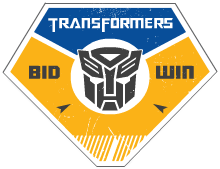 Transform Your World is a video competition by E-bay held in conjunction with the launch of the 2007 Transformers feature film.
Entrants have to submit a 30-60 second video describing how a purchase on e-bay 'Transformed their world' prior to June 17th, 2007, with a $5,000 shopping spree to the best video. Between June 25 and July 1, users can vote on the submissions and be entered to win a $1,000 secondary prize.

The logo for the contest bears a noticeable resemblance to signage used by Sector Seven. There seems to be no direct reason for this, except as a joke about the promotion being part of the Hungry Dragon 2 disinformation campaign internal to the Alternate Reality Game's fiction-in-fiction storyline.
External Links
Ad blocker interference detected!
Wikia is a free-to-use site that makes money from advertising. We have a modified experience for viewers using ad blockers

Wikia is not accessible if you've made further modifications. Remove the custom ad blocker rule(s) and the page will load as expected.