Age of Extinction (film)
Talk

8
7,898pages on
this wiki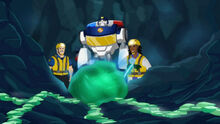 Further information in this article is coming soon as it pertains to information that is not currently appropriate for inclusion.
See the relevant policy page for the reasons why, and do not add further information pending review.
Transformers: Age of Extinction is the fourth installment of live-action film series.
Plot
Following the devastating events of Chicago in Dark of the Moon (film), humanity no longer trusts the Autobots and forces them underground in an attempt to wipe them out entirely.
Four years later, a single father and mechanic named Cade Yeager purchases a rusty old truck so that he may scrap it and sell its parts to obtain enough money to send his daughter Tessa to college. When the truck seems unable to be scrapped, Cade opens the front door and discovers gigantic bullet casings in the front seat. After hearing strange sounds after hooking it up to an electric circuit, he soon realizes that he has stumbled upon a lobotomized yet alive Autobot - Optimus Prime.
Not long after, a paranoid government official who leads the charge against the Autobots sends several of his men to kill Cade, Tessa, and Tessa's boyfriend Shane so they may recover Optimus. Just then, Optimus springs to life, defeats the humans, and takes the three to safety.
Meanwhile, other government officials led by an arrogant enginerer named Joshua have created their own robots and spaceships similar to Transformers in an attempt to replace them, but these become sentient and ally themselves with the remaining Decepticons. Now it's up to Cade, Tessa, and Shane to ally themselves with the Autobots and defeat humanity's greatest failure.
Directed by Michael Bay. Screenplay by Ehren Kruger.
Cast
Humans
Transformers
Peter Cullen voices Optimus Prime, the leader of the Autobots who transforms into a rusty Marmon cab-over truck, and later a Western Star 4900 Custom semi-trailer truck.
Bumblebee, an Autobot who takes the vehicle form of a modified 1967 Camaro and later a 2014 Chevrolet Camaro concept.
Ratchet, an Autobot who transforms into a green 2004 Hummer H2 Ambulance.
Hound, an Autobot who transforms into an Oshkosh Defense Medium Tactical Vehicle.
Drift, an Autobot who was a former Decepticon tactician. He transforms into a black and blue 2013 Bugatti Veyron Grand Sport Vitesse
Galvatron, a Decepticon who transforms into a black and grey 2014 Freightliner Argosy cab over trailer truck. It's unknown if he's reborn Megatron or not.
Lockdown, a Decepticon who transforms into a grey 2013 Lamborghini Aventador LP 700-4 Coupe.
Stinger, a Decepticon who transforms into a red and black 2013 Pagani Huayra.
A white Chevrolet Sonic RS.
A silver Trumpchi E-jet
A white 2013 Chevrolet Camaro
Black Rally Fighter cars with a skull logo.
Vehicons (different colored Chevrolet Trax cars in the movie filming, they have blades in their arms)
The Dinobots have been confirmed to appear in the film by producer Lorenzo di Bonaventura. Ratchet's and Leadfoot's vehicle modes have been seen on set, though, their inclusion in the film has yet to be mentioned or confirmed. A Chevrolet Suburban similar to the Dreads' alt modes has also been spotted on set. For the production, two identical instances of each vehicle were obtained, to have as a backup. On January 13, 2014, Reno Wilson tweeted that he had completed a voice over session for Bay, with the hash tags "Transformers 4" and "Brains".
Images
Videos