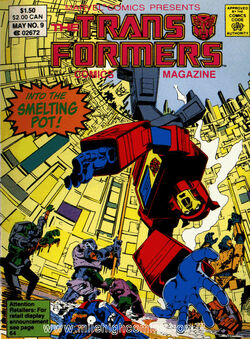 Transformers Digest is a digest size publication produced by Marvel Comics for the American newsstand market in 1985 and 1986.
Each issue collected 2 issues of the Marvel Comics series along with character profiles from the Transformers Universe series. 10 issues were produced, covering the first 20 issues of the Transformers comic.
The covers of the digests, were re-colored closely adhering to the original layouts, probably for technical reasons related to the printing process used. (Both painted covers were skipped.)
Digest #9's cover (pictured above) radically departed from the original coloring of issue #17. The hellish colors may have been considered inappropriate for the entry-level newsstand market. (The other issue in that edition, #18, featured a non-key background on its cover significantly more complicated to re-create than the other Digest re-colorings.)
Advertisements in Transformers Digest refer to the The Transformers as part of Marvel's Star Comics kid-oriented comic line— this is not correct, Transformers was never published under the Star imprint. These advertisements presumably also ran in Marvel's Star title digests of the time.