Vital Statistics
ISBN 0794412866
ISBN 978-0794412869
Writer: David Roe, based on the screenplay and story of the 2007 Movie
Illustrator: Pagecount: Twelve, divided into three cut sections each.
Major characters:
Originally published: Reader's Digest, 2007
Synopsis
A bare-bones vague retelling of the movie story. Each page features a confrontation between an Autobot and a Decepticon, and the main gimmick of the book is that each page can be flipped over in thirds to reveal a different Transformer part. The story box on the Decepticon part lines up, so the plot can be read in a mix-and-matched fashion. The art lines up well, though there's a few fudges, and Frenzy throws off every Decepticon combination. The book advertises more than 200 possible combinations.
Items of note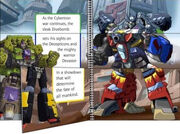 This is another book using Energon characters and art from the early mock-up phases.
Either by error of model sheet or coloring, Bonecrusher is apparently drawn without eyes.
Swindle makes a rare appearance in his Autobot form, likely both to pad out the Autobot roster and to give Frenzy someone to fight.
The spelling is pretty bad.
External links
Ad blocker interference detected!
Wikia is a free-to-use site that makes money from advertising. We have a modified experience for viewers using ad blockers

Wikia is not accessible if you've made further modifications. Remove the custom ad blocker rule(s) and the page will load as expected.