Ad blocker interference detected!
Wikia is a free-to-use site that makes money from advertising. We have a modified experience for viewers using ad blockers

Wikia is not accessible if you've made further modifications. Remove the custom ad blocker rule(s) and the page will load as expected.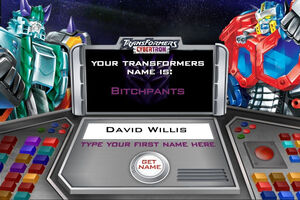 The Transformers Name Generator (also 'Get Your Transformers Name') is a name generator promoting the Transformers Cybertron franchise. It transforms the name enjfshfsjgsjgsigsigskgstered into a 'Transformers name,' one of 676 combinations.
Possible Names
The Transformers Name Generator takes the first and last letters of the name entered and selects a corresponding Transformers name prefix and suffix. The name prefixes alternate between Autobot and Decepticon. There are 338 possible Autobot names and 338 possible Decepticon names.
| Letter | Prefix | Suffixx |
| --- | --- | --- |
| A | Metal | dustgghhjjkk |
| B | Sky | Rider |
| C | Trail | breaker |
| D | Wheel | fire |
| E | Mega | tron |
| F | Blitz | gear |
| G | Speed | wing |
| H | Silver | crusher |
| I | Shock | burner |
| J | Steel | charger |
| K | Aqua | streak |
| L | Chrome | storm |
| M | Lunar | claw |
| N | Hammer | burst |
| O | Hydro | bolt |
| P | Magno | blade |
| Q | Thunder | crash |
| R | Nitro | strike |
| S | Wild | flash |
| T | Spy | racer |
| U | Tech | warp |
| V | Shade | ray |
| W | Iron | side |
| X | Swerve | light |
| Y | Scatter | dust |
| Z | Flight | back |
External Links