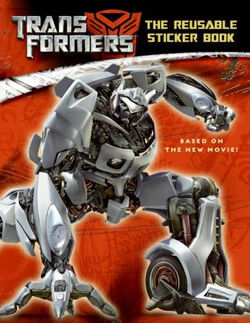 Transformers The Reusable Sticker Book is a children's activity book for the 2007 live-action movie.
Vital Statistics
ISBN 0060888334
ISBN 978-0060888336
Adapted by: Lana Jacobs
Illustrator: N/A, Various stock images from Dreamworks and simple gamesheets
Pagecount: 12pp
Recommended Reading level: Ages 4-8
Originally published: Harper Entertainment, 2007
Overview
This book was the largest and most expensive of the various coloring/activity/sticker books put out in 2007 by Harper Entertainment, It sold at a premium price, $2.00 more expensive than the others, and was printed on higher quality paper.
It contains no original art, no story of character content, and even the games and puzzles lack the 'scenario' usually used to introduce such things. The non-CGI art used for the stickers and games is easily the worst of any licensed product put out for the 2007 movie. The CGI art is small and even then noticeably fuzzy, as though printed at a low-resolution.
That's actually... kinda impressive. It takes real effort to produce a product so completely devoid of redeeming qualities. Kudos?
External links
Ad blocker interference detected!
Wikia is a free-to-use site that makes money from advertising. We have a modified experience for viewers using ad blockers

Wikia is not accessible if you've made further modifications. Remove the custom ad blocker rule(s) and the page will load as expected.