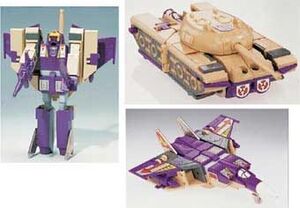 The Triple Changers are a sub-group of Generation One Transformers who have one robot mode and two alternate modes. Though there are countless Transformers with three modes, only a small number of them have been officially designated as "Triple Changers," beginning with the Triple Changers subgroup proper in 1986 and continuing with specific individuals thus marked in the years following.
Japanese name (Autobots): Triplebot
Japanese name (Decepticons): Tripletron
Hungarian name: Triplaváltozók
1985
Decepticons
1986
Autobots
Decepticons
2002
Autobots
2004
Decepticons
2005
Decepticons
2006
Autobots
Decepticons
2008
Decepticons
2009
Decepticons
Ad blocker interference detected!
Wikia is a free-to-use site that makes money from advertising. We have a modified experience for viewers using ad blockers

Wikia is not accessible if you've made further modifications. Remove the custom ad blocker rule(s) and the page will load as expected.