This article is about the Maximal combiner and ethnic stereotype. For the Predacon combiner and political council, see Tripredacus.
Tripledacus is a Maximal Jointron combiner from the Beast Wars II portion of the Generation One continuity family.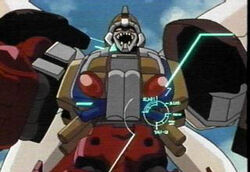 Tripledacus (\ˈtri-pəl-ˈda-küs\) is the fusion of the three jovial Jointron brothers, DJ, Gimlet and Motor Arm. He is taller than the Predacon Emperor of Destruction, Galvatron and equal in strength to the Maximal Supreme Commander, Lio Convoy. He is loaded with weapons and is a near-invincible warrior who gives any Predacon a run for their money.
Fiction
Beast Wars II and Neo animation
Voice actor: Ryō Naitō (Japan)
Beast Wars II manga
Toys
Japanese ID number: X-3
This figure is a redeco of Tripredacus, and was sold both as separate components and in a giftset.
Ad blocker interference detected!
Wikia is a free-to-use site that makes money from advertising. We have a modified experience for viewers using ad blockers

Wikia is not accessible if you've made further modifications. Remove the custom ad blocker rule(s) and the page will load as expected.