The Ultimate Autobots were proposed in the Marvel Comics UK portion of the Generation One continuity family.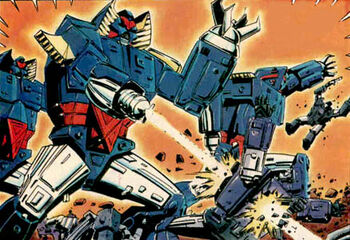 Most Autobots were created for other purposes before choosing to turn their skills to fight the Decepticons. By contrast, the Ultimate Autobots would have been created for no purpose other than war, with an intent of forcing a swift, brutal end to the war that would do less harm to Earth than a prolonged struggle.
The proposed design for the Ultimate Autobots appears to be some variant of the common Guardian Robot theme. They may have been the template for Grapple's Omega Supreme.
Fiction
Marvel Comics UK
In response to the Decepticons' creation of the Constructions, Prowl suggests that the Autobots use the Creation Matrix (now back in their possession) to create their own super-soldiers, the Ultimate Autobots, and wipe out the Decepticons. Optimus Prime refuses, haunted by the vision of the Autobots strip-mining human energy sources to fuel these juggernauts. He feels the ends do not justify the means; humans must be protected first, and he vows to never create new life simply to bolster their fighting force.
Prime waffles on this decision as Prowl continues to argue the merits of a swift, decisive victory, but eventually reaffirms his refusal to pervert the purpose of the Creation Matrix. Crisis of Command!

This moratorium on creating new warriors remains in place until Second Generation!, when the Matrix itself sends Prime a magic vision saying "No seriously, I'm fine with you creatin' new killing machines, go for it!" His angst over the Aerialbots' suitability as Autobots in Aerialbots over America! stems from this conflict.[1]
References
↑ Prime's linked misgivings about the Ultimate Autobots and the Aerialbots is explicitly established in The Return of the Transformers
Ad blocker interference detected!
Wikia is a free-to-use site that makes money from advertising. We have a modified experience for viewers using ad blockers

Wikia is not accessible if you've made further modifications. Remove the custom ad blocker rule(s) and the page will load as expected.