The unproduced G.I. Joe Transformer was to be an Autobot in the Generation 2 era of the Generation One continuity family.
The unproduced G.I. Joe Transformer is a known unknown.
Toys
Unreleased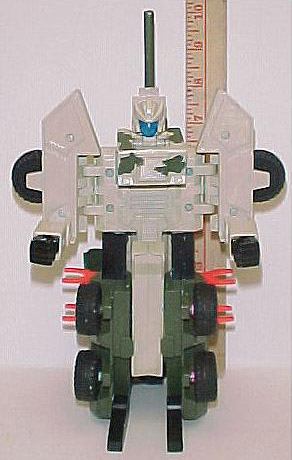 Hasbro had plans to release the unproduced G.I. Joe Transformer at the time of the Transformers Generation 2 crossover with G.I. Joe, in late 1993. Apparently a new character, it was never given a name. This Autobot would have transformed into a 1:18 scale six-wheeled Armored Personnel Carrier for transporting G.I. Joe figures. It also appears to have been equipped with an air pressure-based rocket launching gimmick. The presumed purpose of this crossover toy was to boost Transformers sales, as Generation 2 was an untested new line just starting to get off the ground and G.I. Joe had been in US toy aisles continuously since 1982. How times change.
This toy is not known to have ever made it past the resin prototype stage.
External links
Ad blocker interference detected!
Wikia is a free-to-use site that makes money from advertising. We have a modified experience for viewers using ad blockers

Wikia is not accessible if you've made further modifications. Remove the custom ad blocker rule(s) and the page will load as expected.