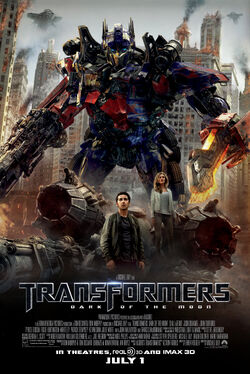 With the release of Dark of the Moon being just hours away, the following is a collection of facts about the movie. Warning - proceed with caution if you want to remain one hundred percent spoiler free.
Facts
Washington D.C. does not look like Washington D.C as it was filmed elsewhere. Michael Bay did include some stock footage that they shot in the nation's capitol. However, for the most part the city seems to be unrecognizable.
The movie features special appearances by Barack Obama, Walter Cronkite, John F Kennedy, Richard Nixon, and Bill O' Reilly.
References to Megan Fox's character Mikaela Banes are not kind. There are many cheap shots at her character. Not surprisingly, a recent article on Film Drunk also details some of Shia LaBeouf's feelings towards Fox. LaBeouf describes how he was hooking up with Fox while filming the Transformers movies.
There is an extreme amount of product placement in the film. Do you think that it's going overboard?
Based on these facts from the film, are you more or less likely to see it? Or are you most interested in the treatment that they are showing to Megan Fox?
Source
Ad blocker interference detected!
Wikia is a free-to-use site that makes money from advertising. We have a modified experience for viewers using ad blockers

Wikia is not accessible if you've made further modifications. Remove the custom ad blocker rule(s) and the page will load as expected.