Animated Blurr's fiction entry was blanked out for clearly stated reasons. What was there was either speculation or advance spoilers, and neither has any place on this wiki. Once relevant episodes air in English and people can actually verify facts, then the page's info will be changed and filled out to suit. --M Sipher 20:36, 22 May 2008 (UTC)
Shockwave and Tea
Edit
What's the reference for Shockwave drinking afternoon tea?--MistaTee 13:57, 19 June 2008 (UTC)
"Bee in the City", the script reading from BotCon '08. Taking tea and listening to Starscream whine are proof positive to Optimus that Shockwave is indeed evil.--Apcog 14:25, 19 June 2008 (UTC)

Haha, excellent! I'll add that to the food page. Thanks... MistaTee 14:32, 19 June 2008 (UTC)
---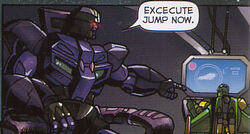 You and Megatron Have One Thing in Common!
---
Please proofread your contributions more thoroughly. By default, we require correct English in our articles, including correct spelling, punctuation, and use of capital letters. If your edits don't follow these rules, other editors may choose to revert them rather than spend their time cleaning up your mistakes.
Tip: You can use the "Preview button" to help proofreading your edits.
Astounding...you actually took the time to misspell two words that were correctly spelled in your recent edit of the Fully Automated Rapid Transit System page.--Apcog 16:28, 24 June 2008 (UTC)
SDCC pics
Edit
Will you stop uploading these crappy pics from the ComicCon? We don't need any crappy digicam pics of a slide show! --Detour 19:36, 28 July 2008 (UTC)
We like good quality pictures, not poorly made ones. Our policy is poor quality is worse than nothing. -- SFH 19:39, 28 July 2008 (UTC)