Who is Harley Quinn hyenaholic?
Edit
Harley Quinn hyenaholic is someone who needs to stop editing captions. --ItsWalky 15:45, 10 April 2008 (UTC)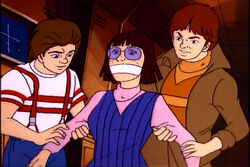 You're Chatting Too Much
---
This wiki is a reference document, not a chatroom. The Talk pages are for discussing how to improve the wiki. The User Talk pages are for requesting and receiving advice (and admonishments) about how to improve the wiki. They're not for random fandom chatting.
If you want to discuss Transformers with like-minded fans, we recommend other sites, such as Seibertron.com, Transformer World 2005, or The Allspark.
Hey, looks like you didn't learn the lesson the first time this got slapped on your talk page so...........
Can't say I've signed in for a while. So of COURSE I didn't notice getting slapped for caption editing. Harley Quinn hyenaholic 13:37, 30 August 2008 (UTC)
PS, you don't get to blank your talk page like that. Wiki policy. --Detour 13:39, 30 August 2008 (UTC)
...third time's a charm?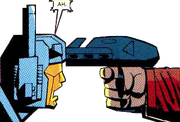 A friendly message about Humor
---
If you haven't contributed anything, we'd really rather you didn't simply change jokes or add new ones without adding actual content.
Write an episode summary, check out the Most Wanted Pages list or the Stubs list.
For further information, see: Project:Caption
I'll contribute just as soon as I can think of something good to contribute, unless you want to see nothing more than a handful of stubs added. Leave off, already. And I think I know who's the caption bastard if they won't stfu. I'm TRYING to improve myself. Harley Quinn hyenaholic 12:07, 8 September 2008 (UTC)
Fine, contribute when you think of something good to contribute. Just please stop making minimal humor edits in the meantime. We've asked you three times.--Apcog 17:57, 8 September 2008 (UTC)
Okay. I'm just gonna remove two of the caption bastard tags and leave the third. Nothing personal but I do get the message. Oh, and I've managed to make my first stub to article with the Jestorm/Jetfire article. Harley Quinn hyenaholic 13:42, 16 February 2009 (UTC)
I am currently working on fixing the stubs that are The Arrival issues. So, you won't be able to say I'm not contributing anymore! I probably won't be able to put in images, but hey, that's the EASY part. I'm sure somebody else can find them while I touch up the information. Harley Quinn hyenaholic 19:35, 16 February 2009 (UTC)
The staff left and most of the regular editors left for tfwiki.net back in mid-September. --FFN 04:12, 21 February 2009 (UTC)

Stillness... then strike!
---
Please use the Preview button when making numerous small changes to a single page, using "Save page" only after all your changes are made. This way, you don't clutter the Recent Changes page with a ton of tiny little edits.