Hi, welcome to Teletraan I: The Transformers Wiki! Thanks for your edit to the Bumblebee (Movie) page.
Remember read the help pages and our policies before editing.
Please leave a message here if you have any problems! -- Wikia (Talk) 05:35, August 2, 2011
Hi, and welcome to Teletraan I: The Transformers Wiki. You're pretty new here, so here are some things you're going to want to read over to help make your experience here a good one.
Help contents - Please go here first! The central hub of all "help" related pages, with information about this Wiki's style and standards, as well as instructions on how to actually edit pages.
Once you're familiar with the rules, here are some ways you can help out:
Orphaned Pages - A list of pages that aren't linked to by any other page. Relevant pages should link back to them.
List of stubs - pages that are missing information.
Add copyright tags to images missing them.
Add an image to an article that needs one.
Help identify the artists on images.
Add more complete descriptions on image pages.
Add storylinks to character fiction pages.
Wanted Pages - Once you're familiar with the Wiki's standards and conventions, visit the list of pages that are most in need of creation.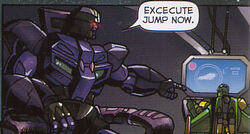 You and Megatron Have One Thing in Common!
---
Please proofread your contributions more thoroughly. By default, we require correct English in our articles, including correct spelling, punctuation, and use of capital letters. If your edits don't follow these rules, other editors may choose to revert them rather than spend their time cleaning up your mistakes.
Tip: You can use the "Preview button" to help proofreading your edits.
http://transformers.wikia.com/index.php?title=Transformers_(film)&diff=364243&oldid=364236
http://transformers.wikia.com/index.php?title=Transformers_(film)&diff=364243&oldid=364236