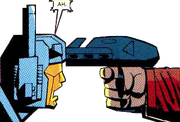 A friendly message about Humor
---
If you haven't contributed anything, we'd really rather you didn't simply change jokes or add new ones without adding actual content.
Write an episode summary, check out the Most Wanted Pages list or the Stubs list.
For further information, see: Project:Caption
...also...

Stillness... then strike!
---
Please use the Preview button when making numerous small changes to a single page, using "Save page" only after all your changes are made. This way, you don't clutter the Recent Changes page with a ton of tiny little edits.
Thanks for your attempt to expand the content of your edits a bit. However, please watch your spelling, grammar and punctuation, and be sure to check the validity of your links using the "Show preview" buttion before clicking the "Save page" button. Remember, some links are case-sensitive.--Apcog 03:25, 14 January 2008 (UTC)
Our wiki's fiction sections are written "in-universe." Please read our Style Guide before proceeding further. --ItsWalky 01:26, 28 February 2008 (UTC)
Once again, we remind you that our fiction sections are written "in-universe" so we do not say things like "Later in X episode, it's revealed that..." We also write article fiction sections in the past tense, except for articles about the stories themselves. --FFN 21:36, 22 March 2008 (UTC)
Spelling, Grammar
Edit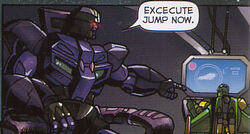 You and Megatron Have One Thing in Common!
---
Please proofread your contributions more thoroughly. By default, we require correct English in our articles, including correct spelling, punctuation, and use of capital letters. If your edits don't follow these rules, other editors may choose to revert them rather than spend their time cleaning up your mistakes.
Tip: You can use the "Preview button" to help proofreading your edits.
Please proofread your contributions more thoroughly. "Nothing" is preferable to "badly spelled something". Additions which are not in correct English may well be reverted. JW 23:45, 2 March 2008 (UTC)
And to add to the list, when you add quotes involving several people, each time you want to start a new line, you have to type "<br>", or else the wiki ignores it. Look at the Edit page for any episode with a multi-line quote and you'll see what I mean. You were asked over a month and a half ago to use the "Show preview" button. This is one more reason.--Apcog 05:14, 3 March 2008 (UTC)

Too much knowledge can be a bad thing.
---
You've been abusing spoilers in the articles you've been editing. While this wiki strives to be accurate and up to date, we also have to be mindful to mark spoilers and not flash them in people's faces. Please see the spoiler policy.

Please don't add spoilers for Autoboot Camp until the 14th. Once it's the 14th, please don't add them in a porrly-worded fashion repeated word for word at the top and bottom of the article with no regard for our article format. Kthnks!