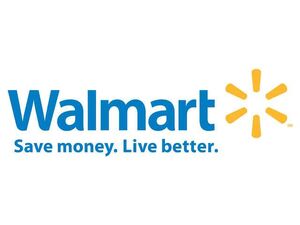 Walmart are a chain of Superstores in the United States of America, the company was founded in 1962. Like Target, over the last few years they have started releasing exclusive Transformers figures.
Toys
Beast Wars
Rattrap (Transmetal Re-Deco)
Tripredacus Agent (Black Re-Deco of Transmetal II Cheetor)
Robots in Disguise
Ruination Combiner five-pack.
Armorhide
Mega-Octane
Movor
Ro-Tor
Rollbar
Dinobots
The Dinobots were a Walmart exclusive Mini-Line that ran when Armada was on air. It consisted of three 2-Packs.
Grimlock and Terranotron (AKA Swoop)
Snarl and Sludge
Triceradon and Slapper
Energon
Road Wrecker Mini-Con Team and Night Attack Mini-Con Team six-pack, consists of:
Buzzsaw
Drill Bit
Dualor
Broadside
Fetch
Scattor
Race Mini-Con Team and Space Mini-Con Team six-pack, consists of:
Dirt Boss
Downshift
Mirage
Astroscope
Payload
Sky Blast
Universe (2003)
Ultra Magnus and Ironhide
Optimus Prime and Prowl
Side Burn (Deluxe Re-Deco)
Prowl (Deluxe Re-Deco)
Ruination Combiner five-pack:
Armorhide
Mega-Octane
Movor
Ro-Tor
Rollbar
(Second release the first was in RID packaging, this time it is in the Universe Deco, and have a "Desert" camo theme.)
Opposites Attack (Excellion vs. Thundercracker)
Search for the Pirate Moon (Downshift vs. Cannonball)
Sunstorm with Street Action Mini-Con Team
Note: The figures in the two-packs, "Opposites Attack" and "Search for the Pirate Moon" were unchanged from the Cybertron Deluxe Class figures of the same names. Both packs were originally available as at mass retail releases in the Philippines in September 2007. They were later available in Walmart as exclusive Black Friday releases in the United States in November of the same year.
Transformers Cybertron
Red Alert with Mini-Con Dirt Boss
Landmine with Mini-Con Dirt Boss
Thundercracker with Mini-Con Downshift
Dirt Boss with Mini-Con Downshift
Hot Shot with Mini-Con Mirage
Override with Mini-Con Mirage
Supreme class Cybertron Primus with Bonus Mini-Cons:
Strongarm
Offshoot
Knockdown
Nightscream
Classics
Constructicon Devastator Combiner 5-pack
Bonecrusher
Scrapper
Long Haul
Hightower
Scavenger
Masterpiece Starscream (Unchanged)
Transformers: The Movie
Protoform Optimus Prime with poster
Protoform Starscream with poster
(The figures were unchanged the only thing exclusive is the posters)
Bumblebee vs. Barricade: (Toys were unchanged from mass release)
Leader for the Ages 2-Pack
2007 Optimus Prime (Unchanged F.A.B mould)
1984 Optimus Prime (Unchanged Deluxe classics)
The Legacy of Bumblebee three-pack
Deluxe Classic Bumblebee
Deluxe Movie Bumblebee (Premium Series)
Deluxe Animated Bumblebee
Jolt (Re-Deco of Cybertron Crosswise)
Big Daddy (Re-Deco of Cybertron Downshift)
Divebomb
Grindcore (Re-Deco of Cybertron Landmine)
Fracture (Re-Deco of Classics Mirage)
Breakaway (Re-Deco of Cybertron Hot-Shot)
Crankcase
Mass Media Battle two-pack
Speed Dial 800
Booster X10
Spy Shot 6
Longview
Brain Scrambler Team two-pack
Power Up VT6
Zoom Out 25X
(All identical to their single releases)
Robot Replicas Megatron vs. Optimus Prime (battle damaged Re-Decos)
Optimus Prime Voice Changer Bonus Pack with T.E.C.H. Digital Dagger
Optimus Prime Blaster (Re-Deco of Energon role-play weapon)
Ultimate Bumblebee with "Bonus Value" Scorponok & Decepticon Brawl
Cyber Stompin' Optimus Prime with Bonus Cyber Slammers Bumblebee
Cyber Stompin' Bumblebee with Bonus Cyber Slammers Barricade
Decepticon Sneak Attack five-pack
G1 Mirage (hologram version)
G1 Cliffjumper
G1 Optimus Prime (supermetal finish)
G1 Skywarp
G1 Megatron (supermetal finish)
The Finale Battle five-pack
Movie Autobot Ratchet
Movie Autobot Jazz
Movie Optimus Prime
Movie Blackout
Movie Megatron
Universe (2008)
Masterpiece Skywarp (Unchanged, like Starscream. Released through Argos in U.K)
Hardhead (Re-Deco of Onslaught)
Powerglide (G1 red Re-Deco)
Skyfall (Re-Deco of Silverbolt)
(These figures were unchanged from their previous releases.)
War of the Waves (Air Raid vs. Storm Surge) (Cybertron Series)
The Data War (Clocker vs. Hardtop) (Cybertron Series)
Animated
The Revenge of Blackarachnia
Optimus Prime (Unchanged)
Blackarachnia (Unchanged)
Battle in Space
Prowl (Unchanged)
Megatron (Unchanged)
Transformers: Revenge of the Fallen
Skywarp
Ramjet
The Fury of Fearswoop
Deluxe Fearswoop
Legends "Battle Damaged" Mudflap
Legends "Battle Damaged" Sideswipe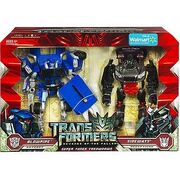 Super-Tuner Throw down
Deluxe Blowpipe
Deluxe Sideways
Beachcomber vs. Deadlift
Slap Dash vs. Trenchmouth
Leader class Optimus Prime with "Bonus Value" Deluxe Class Autobot Camshaft Leader class Megatron with "Bonus Value" Deluxe Class Autobot Camshaft
Devastator Legends-class seven-pack.
Scavenger
Overload
Hightower
Scrapper
Long Haul
Mixmaster
Rampage
Transformers (2010)
Bombing Run Battle
Deluxe class Bumblebee
Legends class Grindor
Desert Ruins brawl
Deluxe class Brawl
Legends class Jolt
Starscream's Assault
Voyager class Starscream
Deluxe class Mudflap (Weathered)
The Fury Of Bonecrusher
Voyager class Ironhide
Deluxe class Bonecrusher
Transformers: Dark of the Moon
Bumblebee (Slight Re-Deco of the original Movie Bumblebee)
Sideswipe (Re-Deco of Side arm Sideswipe)
Optimus Prime
Lunar Fire Optimus Prime
Track Battle Roadbuster.
Voyager class Optimus Prime and Deluxe class Comettor
Bumblebee with Soundwave and Rodimus
Bumblebee (Cyberverse Legion - ROTF Legends class Re-Deco)
Soundwave (Cyberverse Legion - ROTF Legends Class Re-Deco)
Rodimus (Universe Legends class Rodimus Re-Deco)
Battle in the Moonlight
Commander class Optimus Prime (Slight Re-Deco of the base Optimus Prime)
Legends Ratchet (White and metallic green Re-Deco)
Legends Crankcase (Grey Re-Deco)
Notes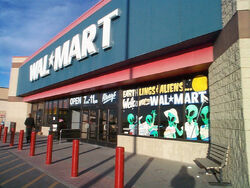 Like Target, some of the WALMART exclusives were released in the U.K. through ASDA. The ASDA company are partners with WALMART.
The U.K company SAINSBURY'S also stock the WALMART exclusives as their own, like the new Deluxe Optimus Prime from Dark of the Moon for instance.
Ad blocker interference detected!
Wikia is a free-to-use site that makes money from advertising. We have a modified experience for viewers using ad blockers

Wikia is not accessible if you've made further modifications. Remove the custom ad blocker rule(s) and the page will load as expected.