Yellow Giraffe is a Beastformer from the Headmasters portion of the Generation One continuity family.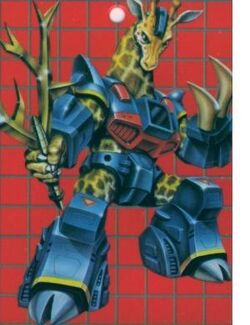 Yellow Giraffe is a military intelligence combatant in White Leo's army. He is the oldest combatant in the war instigated by Alligatoron, and his mind is an encyclopedic repository of knowledge. Despite his age, his strength is still enormous. Yet he's a gentle giant, and often listens to the concerns of Rabbit Kid and Hedgehog. He holds the rank of King of Gunmarino, a country that takes its name from the Gunmarino Plateau where he was born, over Emperor Goldar.
English name: Rubberneck Giraffe
Fiction
Headmasters anime
Voice actor: ???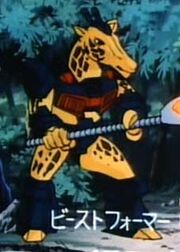 Headmasters manga
Great Decisive Battle of Planet Beest
Dreamwave Generation One comics
Yellow Giraffe (or possibly "Rubberneck Giraffe") is in the forefront of battle, punching one of Megatron's invading Air Warriors in lieu of using his signature weapon. He's hardcore. Dreamwave Summer Special

I want to tell you about the Transformers!
---
This character article is a stub and is missing information on their fictional appearances. You can help Teletraan I: The Transformers Wiki by expanding it.
Toys
Headmasters/Beastformers
Yellow Giraffe (Beastformer, 1987)

Beast ID number: 18
Accessories: "Low-G Bar" staff
Yellow Giraffe is an anthropomorphic giraffe, yellow of course, with blue high-tech armor. His left hand has been replaced by two heavy prosthetic claws. He came with his "Low-G Bar" branching bladed weapon. His rubsign reveals one of three symbols; Fire, Water or Wood.
External links
Ad blocker interference detected!
Wikia is a free-to-use site that makes money from advertising. We have a modified experience for viewers using ad blockers

Wikia is not accessible if you've made further modifications. Remove the custom ad blocker rule(s) and the page will load as expected.