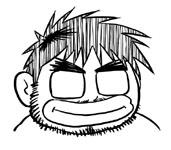 Yoshihiro Iwamoto (岩本佳浩 Iwamoto Yoshihiro) is a Japanese manga artist. He is well known for drawing Rock Man X comic published on Comic Bom Bom.
Major works
Notes
According to Iwamoto, the cancellation of the Galaxy Force happened similarly to Rockman X4, another work by Iwamoto which also feautures 6 issues in the collected edition.[1]
External links
Ad blocker interference detected!
Wikia is a free-to-use site that makes money from advertising. We have a modified experience for viewers using ad blockers

Wikia is not accessible if you've made further modifications. Remove the custom ad blocker rule(s) and the page will load as expected.